Did you know picture books used to be really racist?
Oct 17, 2022
CONTENT WARNING: Some graphic, dehumanizing, and racist imagery is included in this blog for the purpose of education, analysis, and evidence.
Picture book illustrations of children of color have really positively evolved over time in the United States. Early depictions were painfully racist and dehumanizing. There were eventual shifts both in cultural appropriateness and art, and those depictions evolved into what we have today. This is important for many reasons. First, we want accurate depictions for the sake of truth. Second, we want accurate depictions and beautiful representation so that students of color feel affirmed when they see themselves portrayed in books.
Early on, Black children were often depicted in dehumanizing ways, such as "stupid, greedy, and subservient." (University of Washington 2006) From 1899-1939 children's literature that featured Black children can be summarized as an era of ridicule. Consider some of the images below:
The Story of Little Black Sambo was popular. In the story, the young boy is confronted by danger as the tigers find him and want to eat him. In this article, author, Dashini Jeyathurai, explains the racist tropes and troubling elements of the story. One aspect to note is the stereotypically painful depictions of the boy with inhumanely dark skin, to the point of being unrecognizable.
There was also this popular title. It was first written by Agatha Christie, the famous mystery writer. In this children's rhyme the children are either violently killed or hurt, or sent away one by one. It is a sort of countdown story.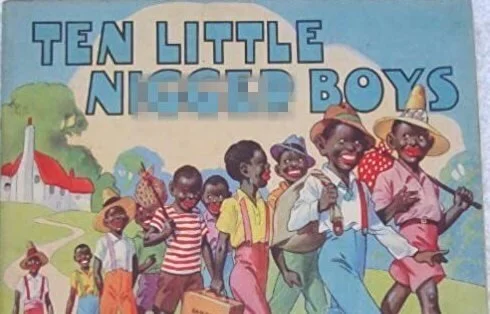 As you can see from the cover, the racist depiction of greyed/darker skin and the red lips with contrasting white eyes is used. It is an unrealistic and inhumane depiction, which sustain(ed) a stereotypical perception of Black boys, and that's why this image is racist.
Furthermore, we see similar trends particularly for Asian people in children's books. The popular blog post "Racism in Children's Books: Asian Slant Eyes" post has circulated online outlining the specific racist stereotype using slant eyes to depict Asian characters. Recently, it was also one of the critiques added to the list of problems with Dr. Seuss books. The organization Conscious Kid led the research and published about it in various places, including their social media account. On their Instagram, the study, with pictorial evidence is still posted under a highlight titled "Dr. Seuss". This research became the impetus for the estate to stop the publishing of some of his books.
One of the main sources of this problem is the publishing industry. In this article, among many, the issues are explained by referencing data from the Cooperative Children's Book Center. The article offers one example, which alone, makes a strong argument. It explains that,
Today, in 2022, students of color are the majority of students in public schools, with the majority of those students of color being Latinx.
Here's the good news!
Depictions have really changed, especially in the last 10 years. More and more authors and illustrators of color have been working in the publishing industry which immediately shifts the imagery and depictions created. Consider the samples below:
Today, when students of color see themselves in books, overall, they have beautiful representation. While we still have much work to do in terms of who is published, what voices are celebrated in the industry, increasing more authors of color, and more, we have truly come a long way.
What about you? What books have inspired you? What books do you think are terribly problematic? Comment and share!
Don't miss a beat!
Get our blog delivered to your email whenever we post!
We hate SPAM. We will never sell your information, for any reason.